The Tirthan valley, which can be found in the Indian state of Himachal Pradesh, is often regarded as one of the most stunning locations in the world and one of the unexplored places in Himachal Pradesh. Because of its pristine lakes, rivers, and terrain, this location is known for being an ideal vacation destination for people looking for a Getaway. This valley is situated at an elevation of 1600 meters above sea level on the bank of the Tirthan river, a tributary of the Beas river.
The Tirthan Valley is only 8 kilometres from the entrance point of The Great Himalayan National Park, and it is also an ideal location for individuals seeking both adventure and a serene setting. This location is not only well-known among Indians, but it also attracts a large number of foreign tourists each year. Where they can unwind at our beautiful resort in Himachal Pradesh
The river pours into this valley from the glacial lake of Hanskund peak, which is located in the southern section of Kullu at an elevation of 4800 m. From Banjar to Bathad, the Tirthan Valley is covered in deciduous forests. Nagini, Sai Ropa, Shoja, and Gushaini are some of the major settlements in this Valley.
The great Himalayan National Park, which is a UNESCO World Heritage site, is the most renowned feature of this area. This park was established in 1984 to protect the flora and fauna of this area. In addition to being a birdwatcher's paradise, this national park is also home to the snow leopard, musk deer, leopard, and brown bear. Tirthan Valley enables camping, trekking, and hiking at this location.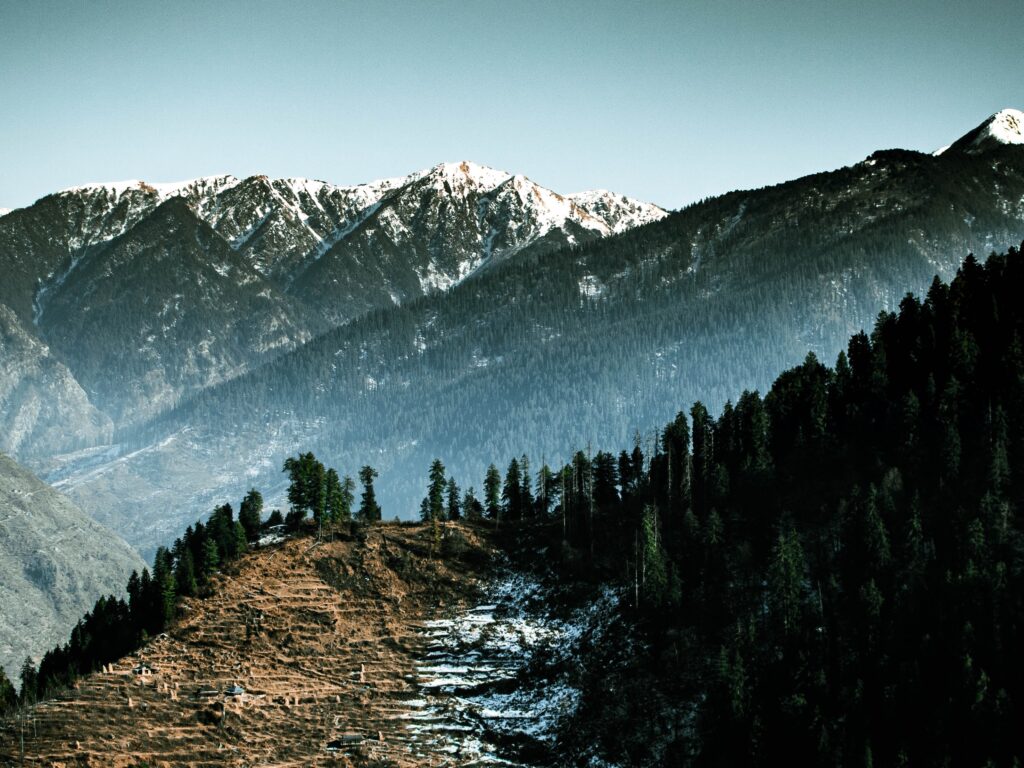 Why is Tirthan Valley Himachal's best-kept secret?
Mountain kissing Clouds
The Fun Valley's backdrop consists of different mountains that appear to be kissing the cloud, surrounded by the densest coniferous forest and attractive Alpine meadow. This location provides a wonderful perspective of the valley and is one of the greatest sites in Himachal Pradesh for nature enthusiasts and bird watchers.
Riverside Retreat
The Tirthan river, which enters the Beas river at Larji along National Highway 21, contains parts of the western Himalayan forest areas. This location contains a number of small communities nestled on the river's bank.
Hidden Waterfall
At Tirthan, the uphill hike from Rolla village to the hidden waterfall is located in a forest-filled valley. The waterfall is a beautiful sight that adds a real gem to this place. Tourists can sit next to this waterfall and get a feel for the atmosphere.
Temples
Near Bagi, there is a Shringi rishi temple with a beautiful statue of Rishi Shringi that is carved out of a piece of wood that shows the 24 different births of God. In Kullu Valley, there is a hidden temple where 18 gods live. These 18 gods are called the chief of Kullu Valley's other 384 gods.
Things to do in Tirthan Valley
1. Trekking
Tirthan Valley is surrounded by mountains with peaks that are over 6,000 feet high. It is a great place to go trekking because its forest is full of fun surprises. The Great Himalayan National Park is a great place for hiking and is also a paradise for nature lovers.
2. Rock Climbing
Tirthan Valley has fantastic rock formations that are ideal for rock climbing. Rock climbing can be done at Tirthan Valley under the supervision of professional instructors from The Sunshine adventure team. Because they have trainers with great mountaineering skills. The climb phrases are provided with gear and safety equipment when rock climbing.
3. River Crossing
The river crossing is one of the most enjoyable activities in Tirthan valley. Since this location is renowned for its adventurous sports, it is frequently visited by adventure activity enthusiasts. During a river crossing on the Tirthan, a person is secured to a safety harness and slides from one point of the river to another while enduring numerous water splashes and gushes.
4. Camping under the Stars
The Tirthan valley provides an environment where you can enjoy camping in the open, deciding the lake's side. Under Sky camping is available at Serolsar and Parashar lakes. The splendour of this location is difficult to put into words. Aside from camping, one may also enjoy bonfires and music under the starry sky, which adds to the feeling of blissfulness at this location.
Best Time to Visit Tirthan valley
Summers are the finest time to explore the splendour of Tirthan Valley because the weather remains relatively nice with just the proper amount of chilly. During the summer, visitors can explore the area's amazing vegetation and fauna. March to June is the best season to visit Tirthan Valley, especially if you wish to go on a hiking expedition.
Featured Image credits: thelandofwanderlust.com