Naddi Village in Dharamshala
The Indian state of Devbhoomi Himachal has plenty to offer every type of traveler, from valleys to breathtaking mountains, clear rivers to lakes, and leisure to adventurous travel. People travel to this Himalayan state's many hill stations to escape the monotony of city life. Dharamsala is a pleasant hill retreat with snow-capped peaks of the Dhauladhar ranges in the background, located in the picturesque Kangra district of Himachal Pradesh. His Holiness the Dalai Lama and several Buddhist monks reside at this hill station, located at a height of 4780 feet.
Dharamsala is one of the most attractive hill towns in Himachal because of the breath-taking views of the mighty Himalayas on one end and the Kangra valley on the other.
Not to mention, the stunning HPCA (Himachal Pradesh Cricket Association) stadium is another notable feature of this quaint Himalayan hill retreat. Another well-liked location close to Dharamsala is Mcleodganj, sometimes referred to as Little Lhasa, where Tibetan and British cultures are strongly reflected in the way of life, cuisine, and architecture. But there are a few locations that only a few people are familiar with.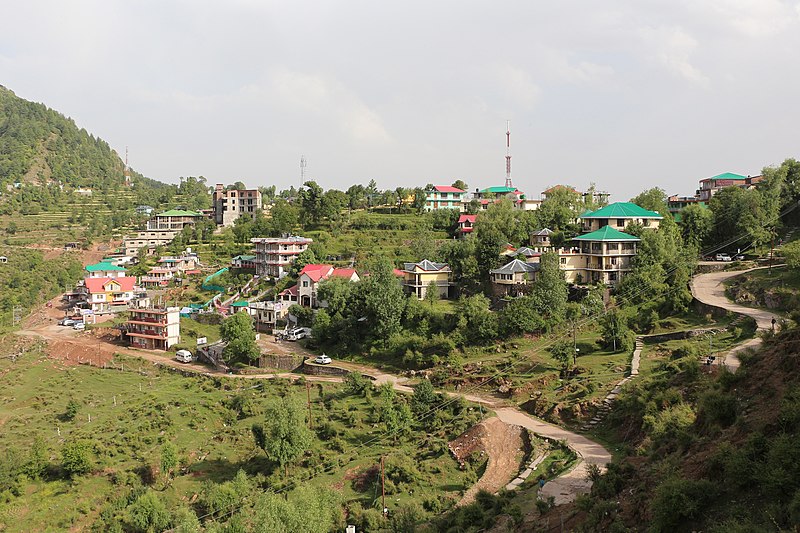 A little village in upper Dharamsala called Naddi provides the ultimate tranquillity. This Himalayan settlement, which is located 4 kilometers from Mcleodganj Main Square and is nestled at an elevation of 6562 feet, can be accessed by trekking or by hiring a cab or auto-rickshaw. Naddi is yet undeveloped and ideal for relaxing in the middle of nature. Let's take a look around this charming mountain town! You can visit this beautiful village which is just a few kilometers away from our destination resort in Dharamshala, Himachal Pradesh.
Naddi view point 
In Naddi village, this is the option that is most picturesque for sightseeing. From here, you may watch as the Dhauladhar range's captivating peaks engage in periodic cloud romance. A short hike leads up to Sahaja Yoga Ashram, a meditation centre situated amid peaceful hills and a verdant forest. Along this little walk, you'll come across a few modest restaurants. 
Enjoying a cup of tea and a plate of "pahadon wali" Maggi while seeing the stunning Dhauladhar mountains, especially during the monsoon season. The best site to experience the beauty of nature is Naddi View Point. Also, if you are staying here, be sure to take in the serene sunrise and sunset from this location. In Naddi, there are many hotels and vacation rentals to choose from. 
Trekking, Waterfalls, & Culture Visit
In contrast to other areas of Dharamsala where you will largely find Himachali and Buddhists, Naddi is primarily populated by people who speak Punjabi. Here, Punjabi and Himachali cultures have been harmoniously merged. The experience of sharing a vacation home with locals will be extraordinary.
Naddi serves as the beginning point for a number of challenging treks, including those to the Triund and Indrahar Pass, the Kareri Lake Trek, and the Guna Mata Temple. I traveled from Dharamkot, a unique location close to Mcleodganj, for the Triund trek. Therefore, this tiny Himalayan village is a great destination for travelers and adventure seekers.
You can also visit a little waterfall in Naddi, but you'll need to descend down the valley to get there. From the main taxi stop, you can walk to all the important tourist attractions.
Dal Lake in Himachal Pradesh
The renowned Dal Lake in Srinagar is well known (Jammu & Kashmir). However, very few people are aware that Himachal Pradesh has another lake with the same name. Dal Lake, which is a great spot to relax, is located in the Naddi village foothills. One can quickly stroll around the lake in complete tranquilly because it is surrounded by a dense deodar forest and hills.
On the shores of this lake is a modest shrine dedicated to Lord Shiva. Spend some time in the Dal Lake area woodlands. Walking around this natural lake in Dharamsala will allow you to breathe in the mountain air and feel refreshed.
Featured Image credits: Tripadvisor.com