The hill station Dharamshala has always been known for its peace and integrity. The serenity of this city is a reflection of the numerous artistic and cultural fusions that coexist and thrive without interference. The Masroor Rock Cut Temple is an example of this place, that inspires the people of Dharamshala as well as people around the world.
This temple, which is dedicated to Lord Shiva, the God of Gods, is supposed to have been involved with the epic time of the Mahabharata and is hence an important Hindu pilgrimage site. The temples face northeast, towards the Himalayan Dhauladhar range.  This temple complex was created by intricately sculpting monolithic stone. Tourists and pilgrims from all over the world come to this wonderful sequence of temples not only to pray but also to witness the beautiful architecture.


Despite being a significant temple complex in its surviving form, archaeological research indicates that the painters and architects had a far more ambitious concept, and the building remains incomplete. Much of the sculpture and reliefs from Masroor's temple have been gone. They were also severely destroyed, most likely as a result of earthquakes. 
The temples were cut out of monolithic rock, complete with a shikhara and a sacred spring of water, as advised by Hindu teachings on temple design. The temple has three entrances on its northeast, southeast, and northwest sides, two of which are incomplete. Evidence implies that a fourth entry was planned and begun but left substantially completed, something acknowledged by early 20th-century colonial-era archaeology teams but neglected, leading to misidentification and erroneous reporting.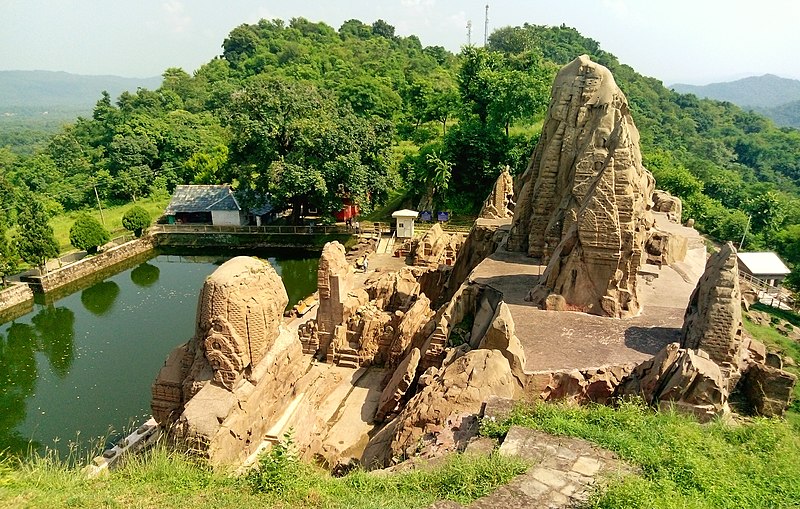 PC: creativecommons.org
The entire complex is symmetrically planned out on a square grid, with the main temple ringed by lesser temples in a mandala pattern. The main sanctum of the temple complex is square, as are the smaller shrines and the mandapa. Experience the beauty and serenity of the magnificent Masroor Rock Cut temple by staying at our resort in Himachal Pradesh.
Activities There


Capture the architectural beauty of the ancient temple and the surrounding panorama.

Spend some time alone in reflection.

Take a refreshing swim in the cool water of the temple's pool, as it is thought that doing so will protect you from all evil.
Availability of Guides
If you are looking for a guide, you may have to consult a travel agency and they will accompany you. However, while visiting the temple you can also interact with the monks and the local people present there to gain some interesting facts about the Masroor rock-cut Temple.
The ideal time to visit 
It is advised that you try to visit the Masroor Rock Cut Temple during Shiv Ratri so that you can enjoy the festival that the locals celebrate with merriment and revelry during that time. Due to the abrupt and severe landslides that occur in Himachal Pradesh during the monsoon season, it is also recommended that you avoid visiting the temple during this time.

Featured Image: www.tripadvisor.in