Feature image credit: Pinterest
The Rang Mahal is a significant monument in Chamba, created in the 18th century as a palace for the royal family by Raja Umed Singh, the monarch of Jodhpur. It is a stunning example of Mughal and British construction, with fort-like walls that seem to reach into the sky.
History  
The Rang Mahal, built in the 18th century by Raja Umed Singh, is a beautiful combination of British and Mughal designs. It is one of the most significant monuments in Chamba and is located in Surara Mohalla, Dalhousie. It's a stunning structure with lofty fort-like walls and an architecture that combines British and Mughal traditions. The western half of the monument was utilized as a royal treasury. The southern part was afterwards completed by Raj Sri Singh in 1860. 
The Raja's goal in erecting this monument was to use it for personal lodging and store grain and treasure for the royal family within the palace. The palace's fundamental foundation was established in the 18th century. Still, later, kings of various dynasties who controlled the palace made several adjustments to the architecture and structure of the monument. Since the palace's foundation, the Raja's royal activities, i.e. Umed Singh's, have been held in the durbar hall of the palace.               
Himachal Emporium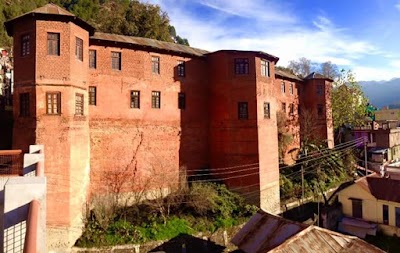 Image Credit: helpmecovid
This monument has since been transformed into the Himachal Emporium, a popular shopping place for outstanding handcrafted handicrafts. The location is known for its one-of-a-kind embroidered work on silky materials. Local women's embroidery is available at the emporium.
The Rang Mahal has become a government property over the years. The handicrafts department used it to manufacture shoes, slippers, and other items as a workshop. All of the palace's antique and vintage decor elements have been removed. They are now housed in various museums across India. Rang Mahal's wall paintings are stunning, comprising one of the most extensive hill collections in the world. These paintings depict Lord Krishna's stories. Plan your stay at Palampur resorts and witness these collections.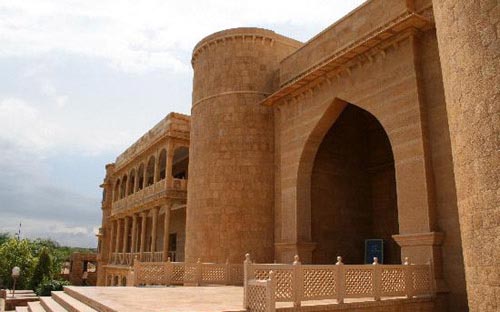 Image Credit: Astrolika 
The Rang Mahal is one of Himachal Pradesh's most popular tourist attractions. Because of its history and architectural uniqueness, it attracts many travellers. The tranquil atmosphere here provides an escape for travellers. Again, because the palace is so close to the city centre, tourists may easily access it by the highway by staying in Palampur resorts. The palace is open from 10 a.m. to 1 p.m. every day, except on weekends and Mondays, when it is open from 2 p.m. to 5.00 p.m.