Tudkiya Bhath- A Himachali recipe
Tudkiya Bhath is a slow-cooked rice dish from Himachal Pradesh, India's northernmost state. Along with having one of the most beautiful landscapes in the country, the hill state is also home to some delectable food that will leave a lasting impression on your taste buds! Tudkiya Bhath is a dish made of soaked rice, cooked with soaked masoor dal and yoghurt in various aromatic spices to produce a flavour that will leave you wanting more. Rare spices like Dagad Phool or Kalpaasi (also known as the black stone), mace, and star anise are used in this traditional Pahari cuisine, giving it a distinct Pahari flavour. 
We serve some of the best Tudkiya Bhath's at our resort in Dharamshala. Take a break from the typical pulao and Tehri dishes and make this delicious rice dish that will be enjoyed by all members of your family and is ideal for a weekend meal. You may also serve this delectable meal alongside any dal or veggie on the menu of your next cat party, potluck, or buffet to impress your guests.  
Ingredients used for making Tudkiya Bhath 
Rice (two cups) -4 onions, medium                    
2 tomatoes (medium) -4 medium-sized potatoes
4 tbsp Dagad (stone flower) -2 coriander leaves in a bundle
2-inch ginger root -4 garlic cloves
4 grams cardamom (black) -4 sticks of cinnamon
Bay leaf, 1 leaf -anise with four stars
1 yogurt cup (curd) -masoor dal, 1 cup
4 tbsp of clarified butter -4 green chilly peppers
1 teaspoon powdered red chilly -4 garlic cloves
1 teaspoon of poppy seeds -mace (three teaspoons) 
Steps for preparing Tudkiya Bhath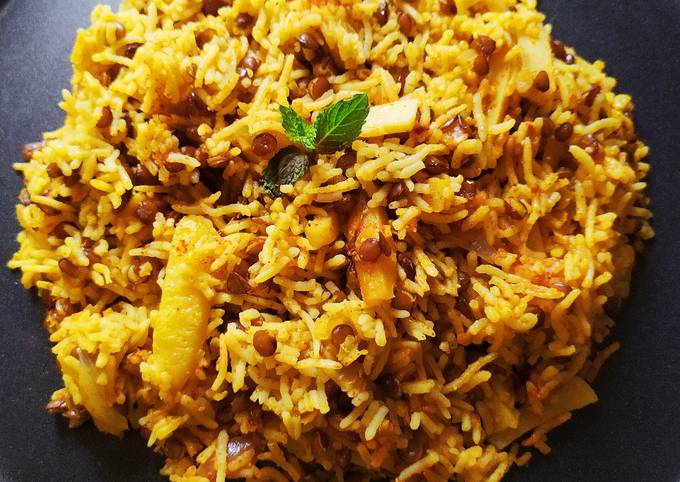 Step 1: Make a spice paste using Potatoes. 
To make this delectable dish, combine chopped tomatoes, chopped onions, ginger, garlic, cloves, poppy seeds, mace, green chilly, coriander, cardamom, and cinnamon stick, star anise, stone flower (Dagad Phool), and red chilly powder in a mixing bowl. Mix all of the spices thoroughly before transferring them to a grinder to be ground into a fine paste. Thinly slice the potatoes into long, thick pieces. Add the potatoes to the spice paste and season with salt. Allow for a half-hour rest period. 
Step 2: Soak rice and masoor in normal water 
While the masala is getting ready, soak masoor dal in water and let it rest for 30 minutes. It is essential to soak the masoor dal for half an hour. Also, in a separate bowl, wash and soak rice and keep it aside for half an hour. 
Step 3: Add the prepared spice paste after the whole spices have been sautéed with the onion. 
In a pressure cooker, heat the ghee after it's done. When the ghee is hot enough, add the bay leaves, cinnamon stick, and cardamom and cook for 2-3 minutes more. After that, add finely chopped onions and cook until they've lost their colour. Toss in the masala along with the potatoes that have been prepared. To incorporate all of the ingredients, whisk them together thoroughly. 
Step 4: Add rice, dal, yoghurt, and cook
After that, stir in the yoghurt and cook for 5 minutes. Drain the water from the soaked rice and masoor dal, then add the rice and dal to the mix and 2 glasses of water. Cover and pressure cook the mixture on high for 2-3 whistles. Allow the steam to escape and only open the cooker when the pressure naturally lowers. Transfer the bhath to a serving plate and serve immediately after the cooker is opened. 
  Featured image credits: cookpad.com