Andretta Pottery- A charming Pottery studio in Andretta
In Himachal Pradesh, the Andretta Pottery Studio and Craft Society is a lovely site to visit. The Andretta Pottery and crafts society is India's oldest Pottery studio. It is in the heart of Andretta, the artist village, located at a distance of 13kms from Palampur.  
History of Andretta Pottery studio 
The Andretta Pottery Studio and Craft Society is a non-profit organization founded in 1985. Andretta Studio was founded due to the late Sardar Gurucharan Singh's passion for ceramics. Actually, this love blossomed by chance! When he travelled to Delhi Potteries to assist his father's friend in his brick-making business. He was so enthralled by the pottery making that he decided to pursue it. He went on to study ceramics in Tokyo after that. He then returned back to India. In 1927, he established the All India Fine Arts and Crafts Society (AIFACS). After that, he was unstoppable in his efforts to propagate the love for pottery. 
For a long time, he was the director of the Government Pottery Institute in Ambala. Following that, he established the Delhi Blue Art Pottery. The Delhi Blue Pottery Trust is now the name of the organization. Many public structures in India employed the high-quality magnetic tiles made here. Gurucharan Singh received the Sahitya Kala Parishad's finest artist award in 1974. In 1991, he was awarded the Padmashree, one of India's highest honours. Pottery in India, published in 1979, was also written by him. 
Andretta Pottery course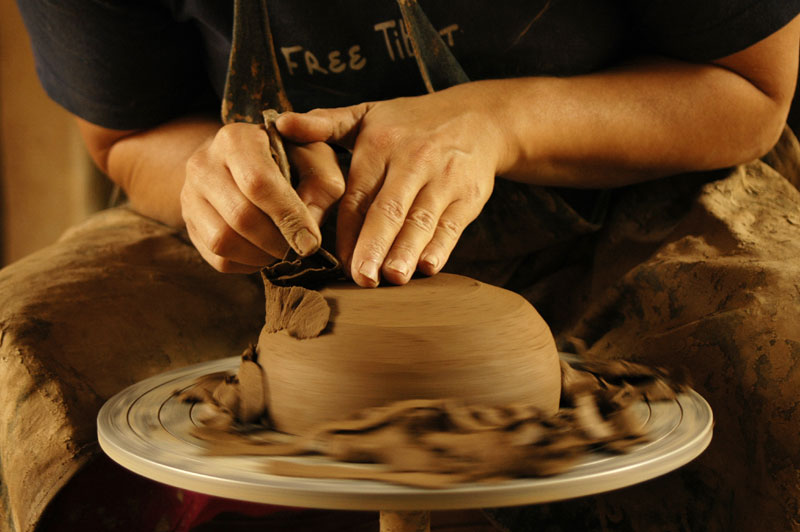 Andretta Pottery offers a three-month-long course in Pottery. This is a beginner's course. Food, accommodation, and education are all included in the course fee. This three-month pottery course allows students to gain hands-on ceramic experience and determine how well they fit into the pottery field. Then they can decide whether or not to pursue this line further. Those interested in pottery will like the course offered by Andretta Pottery. And the majority of them stay with Andretta Pottery well beyond the initial three months.
Students here at the Andretta Pottery say that the course is interesting. Still, the day-to-day living at Andretta Pottery is also interesting. Given its location in the Kangra Valley's lovely surroundings. As a result, the students make the most of their time in the majestic Himalayan mountains by going on numerous treks, bonfires, camping trips, and other activities that make life and learning more joyful.
Pottery shop located at Andretta Pottery 
Andretta Pottery campus not only has the studio where the students are taught. But it also has a manufacturing unit right there. And the one-of-a-kind and stunning pieces of pottery created here make their way across India to various retail outlets. It is fascinating to see so many various pieces of work inside a storeroom, all of which were waiting for the last touches before being sent out to brighten the globe. 
Besides that, there are several completed works of fine art accessible in a small room or shop on the premises of Andretta Pottery. The costs of the products are stated. As a visitor, you are free to make your own selection and purchase a few items. But to make a choice will be incredibly challenging. Because each item has a distinctive pattern and design. Colours differ as well. And it's difficult to limit oneself to just one or a few. This modest shop sells plates, bowls, service bowls, showpieces, wall hangings, and various other items. 
Terracotta Museum at Andretta Pottery 
The Terracotta Museum is located on the grounds of the Andretta pottery. Beautiful terracotta and clay pieces can be found at this museum. However, the Terracotta museum is closed to visitors on Sundays.