Norah Richards house in
Andretta village
Norah Richards was an actress and theatre practitioner born on 29th October 1876 in Ireland. She devoted 60 years of her life to enriching the area's culture. She was later referred to as the Lady Gregory of Punjab.  
Early life and Education 
Norah Richards received her formal education in institutions around the world, mainly in Belgium, Oxford University, and Sydney. She took to the stage and became a successful actress at a young age. She married Philip Ernest Richards, a Unitarian Christian and English teacher. Her husband took a post teaching English literature at Dyal Singh College in Lahore, and she moved to India in 1908. 
Norah Richards became interested in undergraduate cultural events, and her passion sparked a lot of serious theatrical engagement. In those days, Lahore was the epicentre of Punjabi culture. She translated several Punjabi topics into English and directed a few plays. More importantly, she pushed pupils to develop and perform their own one-act plays. She was interested in theosophy and was active in the theosophical movement and Dr Annie Besant's home-rule struggle. 
Norah returned to England after her husband died in 1920. In 1924, she returned to India. She made her home in Andretta, Himachal Pradesh, as events conspired to allow her to reside in the lovely Kangra Valley. Many Britons had acquired land in British India's hill states during the British Raj. Norah was given her property by one of the settlers who fled for England, which became known as the Woodlands Estate.
Norah held an annual week-long festival in March during which students and townspeople staged her plays in an open-air theatre built on her farm. Prithvi Raj Kapoor and Balraj Sahni were the most frequent visitors. Prof Jai Dayal, painter Sobha Singh, and Farida Bedi were among her other friends who later resided near Woodland Estate. Norah's plays were about social improvement, and she showed a great deal of empathy for the people's customs and traditions. She wrote the screenplays while many individuals gathered to assist with the production. She painted watercolours and wrote newspaper articles. For a generation of artists, Andretta became the centre of cultural and theatrical activity. One of them was the young Bhabesh Chandra Sanyal, who had already established himself as a sculptor and painter before becoming the doyen of Indian art. In his autobiography, he goes into great detail about Norah Richards. 
Norah Richards house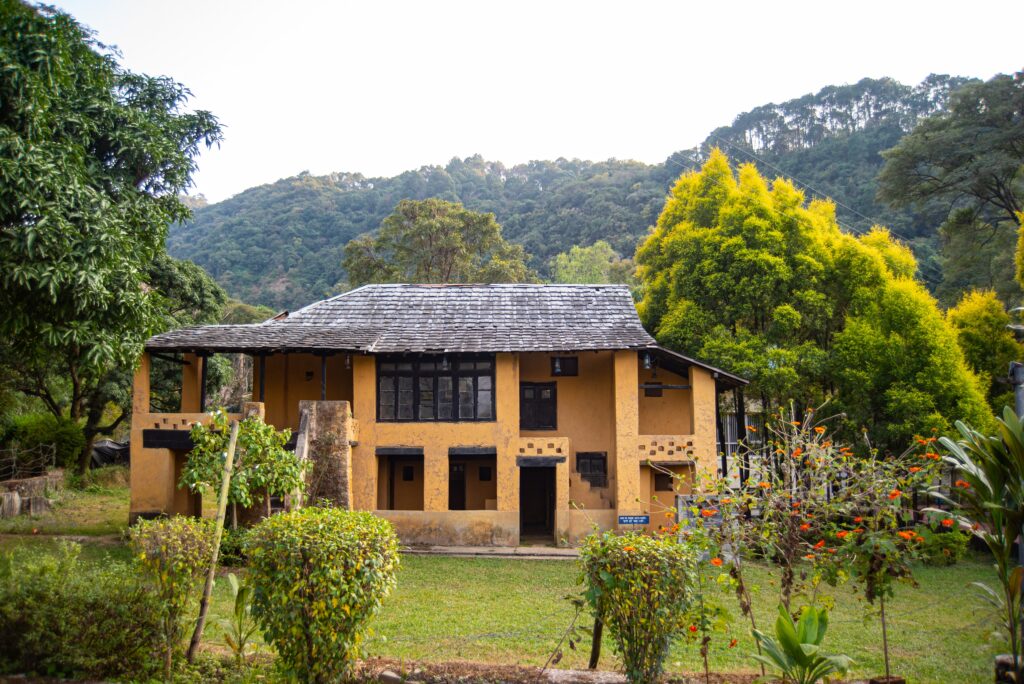 Choosing to live amidst the villagers in Andretta, Norah Richards chose the same lifestyle. She made a mud house with a thatched roof for herself. Her 15 acres of land covered by tall trees and wildflowers professed her love for nature. She named her house 'Chameli Niwas'. It is a Kangra-style mud house built using local style and materials, using mud, slate, and bamboo.  
Norah Richards's contribution to Andretta village 
The village of Andretta would not have shot into prominence had Norah Richards not favoured it as her choice of adobe. With a close sylvan background, Andretta nestles like an oasis of beauty in the open Kangra Valley, surrounded by snow-capped Dhauladhar peaks. The village may be blessed in terms of being alone, but the solitude does not suffer from destined silence; rather, it is a vibrant embodiment of a Yogi in meditation. The atmosphere is eerie, concisely capturing the visitor's mood so that the impression left on his mind is permanent. The reminiscences are energizing anytime they come to mind; while one is away from the land, he is not away from its maidenly beauty. A sensitive to things of beauty artist or man will not take long to fall under the solemn spell of this land – peaceful and dreamy.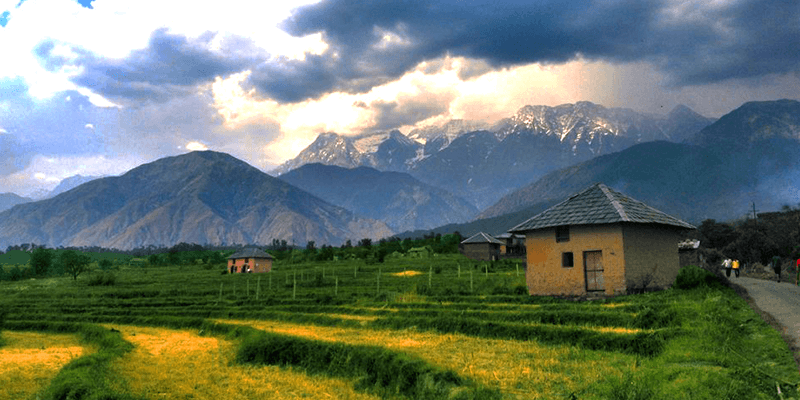 Norah Richards was inspired by Dr L. P. Jacks' thoughts on cultural regeneration. She believed India was destined to usher in this paradigm. She was involved with theatre in England as an amateur and then a professional. She subsequently invented the concept of Rural Theatre, which she saw as a great tool for educating the rural people in the art of life. As a true country girl, her own life was a lesson in simplicity, cleanliness, and beauty. Her Andretta retreat, Woodlands Retreat, is a haven she designed on her ideals about rural culture. Her estate's open-air country theatre is still standing. She had been teaching playwriting, acting, and producing for years, in addition to her dramatic plays.