The first thing that comes when one thinks of Himachal Pradesh is the lush green mountains, the breathtaking views, and the chilly weather. But we often miss mentioning the exquisite Pahadi food the state of Himachal offers. Yes, you heard it right! Himachal Pradesh is also known for its variegated cuisine, which is mostly dominated by locally produced ingredients, slow-cooking techniques and homely yet rich and intense flavours and aromas which we also tend to follow at Rakkh, our sustainable resort in Palampur. If you explore, you will find a wide array of unique veg and non-veg dishes in this cuisine – one of them being Siddu.
Siddu is a kind of bread made from wheat flour kneaded with yeast and the dough is allowed to rise for 4-5 hours. Siddu dough is mostly yeast-based, it has to be prepared a couple of hours before you need it. It is normally eaten with ghee or butter and daal or with green chutney.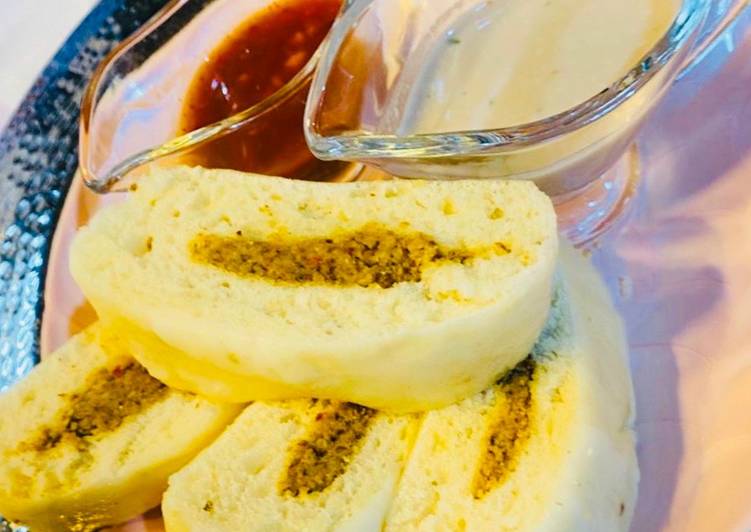 Ingredients to make the dough
2 cup – Wheat flour
1.5 teaspoon dry yeast
1 teaspoon sugar
1 teaspoon salt
1-2 tablespoon ghee
Some lukewarm water
Ingredients for filling
½ tsp- Red chilli powder
1 inch – Ginger, grated
2 – green chilli, chopped
¼ tsp – Turmeric powder
½ pinch- Asafoetida
1 tsp – Coriander powder
Coriander leaves, finely chopped
½ cup – Urad Dal without skin
Steps to make Siddu
Clean the urad dal in water and then soak it in water and set aside for at least two hours.
Take flour in a big bowl, add little ghee, yeast and some salt to it.
Pour lukewarm water into the bowl to knead the dough. The dough should be soft.
Once the dough is ready, let it rest for at least 3-4 hours.
Drain the extra water from dal. Grind it coarsely.
Transfer the dal paste to a plate. Add salt, red chilli powder, ginger, green chilli, turmeric powder, asafoetida, coriander powder and some coriander leaves. Mix the ingredients with the dal thoroughly. Set aside.
Divide the dough into small equal pieces. Fold it into a round shape with your hands. Now roll one such piece of dough into a circular shape, making sure you keep it thick.
Add some of the stuffing to the dough. Fold the dough from the top to cover the stuffing, forming a half-moon. Fold the edges. Repeat with the rest of the dough.
In a pan, add 2.5 cups of water and boil the water.
Grease a strainer pan with some ghee. Place the strainer pan carefully on top of the pan with water.
Place the Siddus on the strainer pan. Cover the pan and steam the Siddus for 20 minutes on medium flame.
After 20 minutes, remove the strainer pan from the stove and allow the Siddus to cool for a while.
Siddu is mostly eaten in winters because of the warmth and nutrition it provides to the body. Accompaniments for this bread are usually clarified butter but people relish some coriander chutney or a saucy broth too. This simple bread preparation holds a strong significance in the lives of the Pahari people, including the tribals who associate it with their cultural identity and a way of preserving tradition.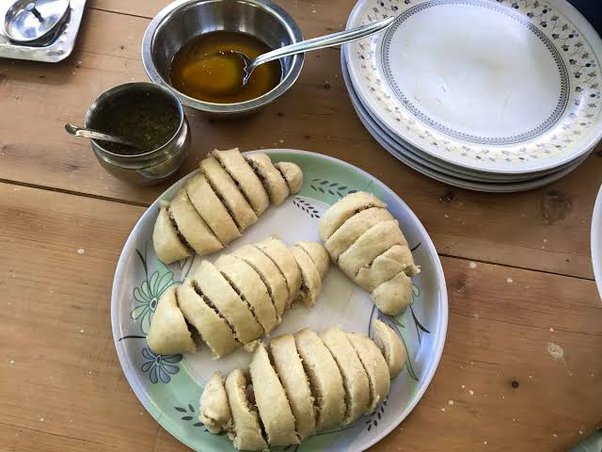 There are numerous variations in preparing the filling for Siddu. The locals use peas filling, potato filling, urad dal filling, rajma filling. A sweet filling with poppy seeds, walnuts and almonds is also a must-try.
If you would like to read more about the Tibetan influence in Himachal Pradesh you can read the Historical prominence of Palampur: Tea Gardens and Beyond blog. And we would definitely recommend visiting Himachal Pradesh and trying them on your own. You can stay at Rakkh, our Resort in Palampur where everything is cooked with sustainably sourced materials to give you an authentic Himachali experience.