Kullu trout is a traditional dish of Himachal Pradesh. It is a fish recipe, which is easy and hassle-free to prepare. Prepared in minimal spices to retain the natural taste of fish, this dish will leave you wanting more with each bite that you take. If you are a seafood lover and always lookout to try something new, you will not want to miss out on this dish if you want an authentic experience as the fish only survives in the cold waters of Himachal Pradesh. We, at Rakkh Resort in Palampur, offer responsibly sourced Trouts, prepared by local staff.
You can still prepare this enticing dish to introduce diversity in your meals and gather all the praises from your family members if you live outside Himachal Pradesh. The mild spicy flavours of this dish will be loved by your kids. It is best enjoyed with steaming white rice.
Ingredients of the Kullu Trout:
1 trout
For the marinade:
1/2 tsp salt
1 tsp dill leaves
1 tsp crushed coriander seeds
1/4 tsp red chilly flakes
1/2 tsp lemon rind
2 tsp lemon juice
1 tbsp mustard oil
For the gravy:
2 tbsp mustard oil
1/2 tsp mustard seeds
1 1/2 Tbsp diced onions
1 tsp chopped coriander
2 tsp lemon juice
1/4 tsp salt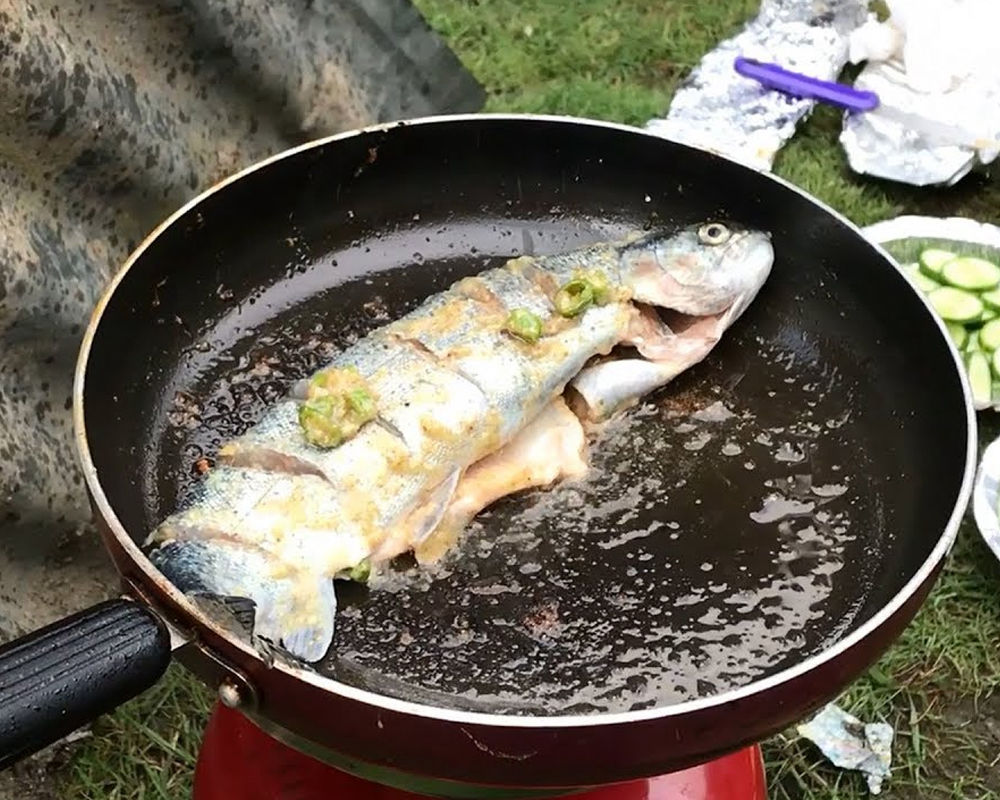 Recipe of Kullu Trout:
Step 1: Marinade the fish
First, wash and clean the trout fish. Now, take the fish in a bowl and add crushed coriander seeds, dill leaves, salt, chilly flakes lemon juice, lemon rind and mustard oil. Mix ingredients well and rub them on the fish. Keep the marinated fish aside for 10 minutes.
Step 2: Fry the marinated fish
Heat the oil in a pan. Add marinated fish in the heated oil, lower the flame and fry evenly on both sides for at least 5 minutes. Take the fish out and drain the excess oil with a kitchen towel and keep the fish aside until further use.
Step 3: Prepare the gravy
Heat oil in a pan. Once adequately heated, add onions with mustard seeds and sauté until the onions turn brownish. Turn off the flame, and mix in the lemon juice, salt and coriander leaves. Stir the mixture to combine the ingredients well.
Step 4: Add the fish to the gravy
Finally, put the fried fish in gravy. Serve hot with rice.
History of Trout in Himachal Pradesh:
Trout is native to the cold-water rivers and lakes of the Pacific coasts of North America and Asia. It is a cold-water fish and flourishes in water temperatures ranging from 5 degrees Celsius to 15 degrees Celsius. The first entry of trout fish in Himachal Pradesh has been reported to be in Kangra and Kullu Districts in 1905. Trout was considered only a game fish and hardly any interest was evinced in its culture or large-scale farming.
But with continued pro-active government policies, adequate advance planning, scientifically designed production technologies, sound management has led to stable, sustainable and profitable trout culture in Himachal Pradesh. Trout is a highly valued fish in the state due to its nutritive value, fewer spines and ease to cook. It is rich in proteins, vitamin A, B, B1, C2, D, Omega 3 polyunsaturated fatty acids and low in Sodium and forms the basis for a healthy low-fat diet. Trout is regarded by some gourmets as one of the most delicious types of fish in the world. Try this gourmet dish at Rakkh, our Resort in Palampur.
Trout is the most celebrated traditional dish of Himachal Pradesh. You can read our blog Maas, Machili, Mountains – A lip-smacking journey into Himachal and get to know more about the Himachali specialities.
If you've been reading this far, surely you must be tempted to try out the specialities yourselves. Drop by Rakkh, our Resort in Palampur, our in-house chefs will be happy to prepare trout for you in our rasoi. The chefs are local to the region, also the produce is local to the region and is responsibly sourced which brings fresh and authentic flavours to your plate.