Is Art and Handicrafts of Himachal Pradesh among best Things to do in Himachal Pradesh ?
A journey to Himachal Pradesh is very enjoyable because it is one of India's most popular tourist attractions. This mountainous land is a fantastic tourist destination with a plethora of tourist attractions. Himachal Pradesh is a must-see location for mountain lovers. The state is proud of its illustrious past and diverse cultural heritage. There are various monasteries, temples, and forts with beautiful architecture. The stunning views of the mountains, passes, valleys, lakes, springs, waterfalls, and wildlife are breathtaking. Come and stay at a Resort in Dharamshala and you will have a lot of things to do in Himachal Pradesh
Himachal Pradesh is a province in north – western India. Himachal Pradesh borders the Indian states of Jammu and Kashmir on the north, Punjab on the west and south-west, Haryana and Uttar Pradesh on the south, Uttaranchal on the south-east, and Tibet on the east.
Handicrafts and art
Craft aims for quality, whereas art seeks to reveal itself. Good art is accompanied by good craft, and good craft is artistic. Artists can be found in every craft. Craft exists within every artist "? Doug Madill and Ralph Reichenbach
Himachal Pradesh's craftsmen's inventive brains have given birth to a dizzying array of handicrafts. Handicrafts have received international acclaim for their contributions to Himachal Pradesh's magnificent cultural heritage. Himachal Pradesh's handicrafts are recognised in India and beyond for their refinement and beauty, and they captivate many tourists. Himachal Pradesh offers a wide range of products to offer, including stone and metal statues, dolls, pottery, paintings, rugs, carpets, shawls, and jewellery. You need to stay at a Resort in Dharamshala to really admire the place as there are a lot of things to do in Himachal Pradesh.
SOME FACT FILES
Handicrafts that are well-known: Carpets, shawls, metal work, stone work, rugs, wood crafts, and traditional jewellery are all examples of traditional jewellery.
Handmade Exclusive Item: Namdas, leather chappals, and gudmas (Rug Made of Beaten Wool).
Not to be missed: People Beating Sheep Wool to Create a Soft Fleecy Blanket – Namdas (Rug Made of Beaten Wool).
Look for:  Chamba, Kalpa, Tisa, Kinnaur, and Kullu are famous for their woodcrafts.
McLeod Ganj and Dharamshala Thangkas and Wall Paintings
LA haul, Spiti, and Kinnaur Bridal Trousseau
Kangra, Chamba, Mandi, and Kullu Jewellery and Accessories
Lahaul Carpets & Rugs
Kullu and Chamba – Metal and Mohars.
Woollens and clothing – Kullu and Shimla
Mandi, Chamba, Kinnaur, and the Shimla Hills are famous for their stone work.
Where to Buy: Dalhousie's Tibetan Market, Tibetan Handicrafts Center, and Himachal Handloom & Crafts Centre are all worth a visit. Dharamshala's Kotwal Bazaar. Himachal Handicrafts, Tibetan Handicrafts, and Bhutico are all available in Manali.
Tribal Handicrafts:
Farahada and Chiba – Embroidered and Coloured Fabrics
Must Have: See the Stone Statue of Lord Shiva at Kullu, which is on display during the Dussehra Festival in October.
Shimla shopping:
The Mall – Garments, Textiles, and Woollen Materials
Lakkar Bazaar – Wooden Items, Antique Treasures, and Traditional Artifacts.
Hima Chali Hat, Handmade and Indian textile Items, Braided Carpets, Shawls, Cushions in Ancient Weaves, Handcrafted Paper, and Intricately Carved Wooden Tables are available at government emporiums.
Insider Tip: Those interested in learning the ancient art of thangka painting can enrol in a course at Norbulingka Institute in McLeod Ganj.
Himachal Arts and Crafts – Glittery Chromium in the Valley Greens.
Travel to Himachal, which represents its highland culture via arts and crafts, making it a must-see trip. Himachal Pradesh in India has evolved a distinct handicraft tradition as a result of its topographical separation from the rest of the country. Look for stone and metal statues, or purchase some handcrafted wooden dolls. For those interested in accessories, Himachal has well-known jewellery, as well as woollen clothes and the iconic Hima Chali caps and shawls. Think again if you believe Kashmir is the ultimate destination for carpets and rugs. Himachal Pradesh has its own collection to show off. Leather craft, embroidery, and paintings are some popular handicrafts to view in Himachal Pradesh. Stay at a resort in Himachal Pradesh and watch how beautifully the art and craft work evolves.
This is a place of beauty and cultural legacy, and one should visit Himachal Pradesh to observe the different arts and crafts that have won the hearts of millions throughout the centuries.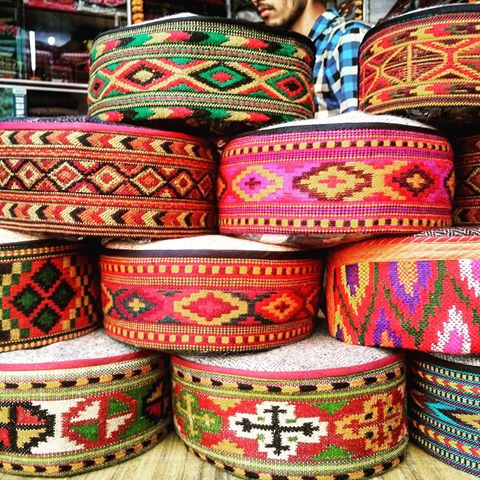 Himachal's Illustrious Woolen – Shawls and Caps
Take Himachal Pradesh tours to view the diverse arts and crafts of Himachal Pradesh, including the state's famous shawls and caps. Wool is regarded as a religious adornment in Himachal. This is demonstrated by the use of woollen shawls during weddings to cover the bride and groom in the shawls to protect them from evil gaze. Himachal hats display the state's most recognised workmanship as well as the most vital purchasing products. 
These caps, which are ubiquitous on the Himachali people's heads, are a symbol of their pride. Take note of the delicately embroidered designs and finely spun yarns used to emboss Himalayan textiles and Tibetan paintings.
The Himachal hats display the state's most recognised craft. These caps, which are ubiquitous on the Himachali people's heads, are a symbol of their pride. Take note of the delicately embroidered designs and finely spun yarns used to emboss Himalayan textiles and Tibetan paintings.
Because of the chill in the area, people have begun to make shawls known as Tha pada. These are heavily embroidered and are only seen in Himachal Pradesh. While wandering around Kullu's labyrinths, you can watch artists actively at work weaving it.
Another prominent type of shawl manufactured in Himachal Pradesh is the Pashmina, which is a high-priced garment. These shawls, which come in a variety of colours and designs, are an essential expression of the state's Tibetan and Himachal acculturation. Enjoy a vacation in Himachal Pradesh and go shopping for arts and crafts in Himachal Pradesh.
Metal and Stone Work in Himachal – The Godly State's Craft.
Brass, copper, iron, tin, and bell metal are among the metals that are widely used to decorate Himachal Pradesh's outstanding art and craft. The eminence of reverence in many complicated pieces of art, divine sculptures in metal and stone craft, is incorporated in this antediluvian craft of the mountainous Himachal and Tibetan artwork.
Enjoy a holiday in Himachal to see how these crafts meet the Himachal people's ritualistic demands. Satisfying the people's religious requirements, it becomes an unmistakable fact that the finest place to observe the metal and stone marvels will be in the temples. Aside from the stunning statues, other metal crafts include bells with creatively crafted handles, lamps, incense burners, low silver or brass settees, jars, and ornate musical instruments. Watch the wonderful art and craft while you stay at a Resort in Himachal Pradesh which is very beautiful and there are a lot of things to do in Himachal Pradesh.
Mohras, that are metallic patches portraying a god and could be discovered in Kullu and Chamba, are a one-of-a-kind metal art style centered on Lord Shiva. The head is carved in dauntless relief, whilst the neck and shoulders are more summarily fumed. Each hamlet has its own Mohra, which is paraded throughout the festivals. Take up Himachal tourism and go shopping for Himachal Pradesh's famous arts and crafts.
Because of the variety of stones available in the highlands, stone work in Himachal is not limited to temple projects. Go to the Lakshmi Narayan temples in Chamba and the temples of Baijnath and Masrur in the Kangra Valley to view some magnificent stone craftsmanship in Himachal temples. However, there are some stone artefacts that you can bring home with you.
Traditional stoves (Angitha), circular storage jars (Kundi), pestle and mortar (Dauri Danda), and mill stones are among them (Chakki). This art is centred in the Mandi, Chamba, Kinnaur, and Shimla Hills regions.
Himachal Pradesh Carpets and Rugs – Weaving
Himachal trappings are notable for its rugs and carpets, which are among the state's most prized crafts. All who believed Kashmir was indeed the realm of carpets should reconsider after seeing Himachal Pradesh. These carpets, embroidered with Garuds (Vishnu's mount, the eagle) sitting on blossoming trees, dragons, swastikas (auspicious Hindu/Buddhist insignia), flutes (symbolising happiness), and lotus flowers (symbolising purity), will make you forget your Persian furnishings back home. Purchase Pahadi-designed rugs in Lahaul. You will be amazed to see these items of décor in every house in Dharamshala.
Rugs are Himachal Pradesh's traditional handicrafts manufactured from the unprocessed wool of rearing sheep and goats, which is subsequently weaved to produce traditional blankets. In practically every agricultural field in Himachal, you should observe folks making Namdas while keeping an eye on their livestock. The soft blanket known as 'Gudmas' is another significant benignant rug. This fleecy soft blanket in the hue of natural wool is made from the wool of Giangi sheep. They are frequently outlined in red or black. There is a wide range of furniture to pick from. Depending on your demands, you can select floor coverings, mattress constructed of goat hair, pat too cloth, carpeting, and soft wool yarn. A few of Himachal Pradesh's most well-known handicrafts are also one of the best items to purchase when looking for art projects in Himachal Pradesh.
Jewellery and Garments – Artifacts Adding to Himachal Pradesh's Adornment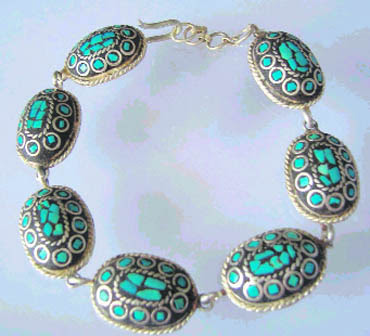 The jewellery manufactured in Himachal Pradesh is described as chunky and eccentric. There are amulets, pendants, necklaces, daggers, and rings made from metal and beads, which dominate the ingredients of this craft. Nonetheless, there are possibilities for excellent jewellery made of gold and silver. The former Rajput kingdoms of Kangra, Chamba, Mandi, and Kullu are the greatest places to observe these remarkable objects' historic and ethnic designs. They are famed for their enamelling skills, and pieces of anklets, solid iron-headed bangles, hair decorations, leaf shaped forehead ornaments, Chandanhar necklaces, and pendants with motifs of the mother goddess should be viewed. The most well-known modern item is the coin necklace, which is popular among Pahari women.
Chokers, heavy anklets, bangles, and silver bracelets are also popular accessories. For Tibetan-inspired jewellery, visit Lahaul and Spiti, where you can discover decorations set with semi-precious stones such as coral, turquoise, amber, and mother-of-pearl.
The coloured and printed fabrics manufactured by the Farahada and Chiba people are the main attraction in terms of clothes. The colonies of Lahaul, Spiti, and Kinnaur generate the famous bridal trousseau and special treat costumes. Himachal Pradesh is also known for its Himali Joo ties, which are constructed of dried Himalayan grass and leftover wool. People wear these shoes with socks that you would never see anywhere else. These socks, brilliantly crocheted and brightly coloured, are a remarkable sight in Himachal Pradesh's different Bazaars.
Himachal Thangkas & Wall Paintings – See the Artists at Work
As previously said, Himachal Pradesh is a melting pot of Himachal and Tibetan culture, making it an unavoidable reason for a traveller to visit the state's artwork and revered thangkas. The thangkas can be found in areas where there is a high number of Tibetans. They are essentially paintings that illustrate episodes from Buddha's life and are uncovered during monastic festivals.
These scroll paintings employ vegetable and mineral colours, which you should be aware of. More than that, if wanted, you can study the old art of manufacturing thangkas at McLeod Ganj's Norbulingka Institute.
In Himachal Pradesh, popular wall murals are as well-known as thangkas. These are necessary in the Highland people's home.
This craft, which is mostly executed by women, requires walls that have been treated with clay, lime, and Golu. To see more of these wall paintings, visit the numerous temples in the various regions where wall paintings are common. Take a vacation in Himachal Pradesh to learn more about the state's art and skill.
Himachal Timberland Woodcraft
Crafting wood into various useful products is an art form that has been practised in Himachal Pradesh since time immemorial, making it one of the most well-known Himachal Pradesh handicrafts. The Dom tribe is well-known for using bamboo to make household items.
They make boxes, sofas, chairs, baskets, racks, and other items that are useful in everyday living. Bamboo basket crafting is a unique art form that is used to meet the financial demands of the impoverished. You should be informed that these are environmentally friendly products created from bamboo waste.
Wood carving is a live heritage in Himachal Pradesh, where Pahari artists utilise it to create complicated Jalis, trellis work, or perforated reliefs that enable light to pass through, changing the innards of a structure with a striking light and aspect arrangement Chamba, Kalpa, Tisa, Kinnaur, and Kullu are the primary wood crafting destinations in Himachal Pradesh.
Other Crafts that Showcase Himachal's Folk Culture
These aren't the only ones. While on Himachal Pradesh tourism, keep in mind that a new art is being created in one of the residences, which is guaranteed to catch your attention. Aside from leather work, one of the region's main crafts is doll creation. Leather chappals with a variety of designs and colours are a must-see. Himachal Pradesh's floor paintings are just as well-known as its wall paintings.
The different schools of painting that evolved here in the 16th century and have left their footprints in today's world are responsible for the region's wonderful paintings. You should visit museums and art galleries if you want to see small artworks. The delight of seeing a ceremonial artwork, on the other hand, can be experienced exclusively in the village households. A stay at a resort in Himachal Pradesh would give you the pleasure of visiting all these lovely places where art is created, and also a lot of things you can do too.